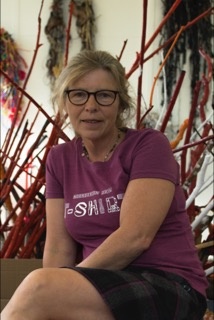 Curriculum Vitae
---
Moniek Dorine Westerman
(Emmen, 1960, the Netherlands).
2003, Academie Minerva in Groningen.
Institution of higher education in Fine Art
Member of 'Nederlandse Kring van Beeldhouwers' /Dutch Society of Sculptors (as from 2012).
Statement: zie onderaan CV
---
exhibitions and projects
Planned:
'De kunst van het geloven' in de Maria Kapel in Holthees, Kapelstraat 1
opening 27 augustus 2022 t/m 11 september 2022
Transformatie is de titel van deze tweejaarlijkse Manifestatie van kunst in kerken en kapellen.
Stichting Kunst en Cultuur Leudal, oktober 2022 - land art project
Ongoing:
Monnikenwerk , kunstroute in het noorden lands vele verschillende kerken - ik zit in juli en augustus op woensdagen in de Maria-kerk in 't Zandt.
-------------------------------------------------------------------------------------------------------
(In chronological order)
Soest, Hazart, voorjaar 2022 (t/m eind juni 2022) deelname aan 'Het Ding' (groepstentoonstelling Nederlandse Kring van Beeldhouwers
Ode aan de Linge, pinksteren 2022 , landart project ter plekke
Soest, Hazart, winter 2021/2022 deelname aan 'Dit Landschap' (groepstentoonstelling Nederlandse Kring van Beeldhouwers
t'Zand - Mariakerk 'Bladgoud' (t/m 6 dec.)
Keik - AAS architecten, Boterdiep Groningen (t/m februari 2021) met nieuwe en oudere installaties, o.a. Rode Kool (240cm/140 cm)
Salon Roden, K38 , deelname als gast van Maxelant Harmsze, Met 2 werken: Female Nude / Eerbetoon aan de Ploeg
Juni 2020 Roermond, Mystique (afgelast)
Pulchri Studio den Haag, NKvB TODAY, deelname met de installatie 'Vlucht'. (aug. 2020)
Eerbetoon aan de Ploeg (aug.2020) (in moestuin)
CBK Groningen - Spinbarg en Verhalen van Groninigen (old religieus stories) augustus- september 2020 (afgelopen)
2017-2020 - parttaking in multi-media project Spinbarg (Groningen) touring as from august 22 nd. 2017 - in klooster ter Apel (2018) and further.
Pieterburen Zeehondencentrum, presented July 2016 # Delfsail. 'Big Fish' (Ghost Net object for 'Happy Seal' programme)
Meeden, 'tuingoed' Folz, 'Dwelling',(2012)
--------------------------------------------------------------------------------------------------
Grensloos Kunstverkennen, de Wijk/Ijlst. August 2019 (vanaf 25 aug) Black Dog (and son)
18 th 0f May 2019 LA-Maastricht / deelname land-art project
Utrecht, Geestdriftfestival, 10 november 2018. Nieuw werk, verschillende objecten, installaties.
Beelden in de Hof. The Hague, 'Hofje van Nieuwkoop', 'Hofboom' ( september, oktober 2018)
'Kunst aan het Water', summer 2018. Balk. "Black Dog".
Leeuwarden, gallerie 'de Kade', 'Kunstenaar laat je kunsten zien' (blokpaneel) from 2018-2019
Jubileumexpositie NKVB Pulchri Studio, the Hague, Tribes ( may 14 th- june 23 rd 2018) work: Tribes
Salix, Leeuwarden, from April 1st. : outdoor installation 'Splash'
Kunstschouw Zeeland, Noordwelle( 15-24 juni 2018) installaton 'Adipogenese' ( sugar, mixed media) 225/165 cm)
Television: Moniek was a guest in 'Het Vermoeden' , Oktober 15 th, 2017 11.35 EO, NPO2.
Oldeberkoop 'Open Stal', (art in nature, 'Droomboom') summer 2017
WG-Kunst, groupshow 'WG Kunst 25 years', Amsterdam (from May 28th-2017)
'Terug naar het begin', Content of 'Sterke Verhalen-kar', May 20, 2017 Appingedam.
(18-02 until 4-06): 'Verspijkerd en Verzaagd',
my installation 'Vlucht' is included in the exhibition.Het Noordbrabants Museum Den Bosch.
2016: December t/m Januari 2017 "Ijzingwekkend", group show in Kunsthal 45, Den Helder (2 installations: 'Sporen' en 'Treurkleed')
(26 th of Januari 2017/ evening lecture about my workpractice).
December 18th 2016: Open studio Jan Ketelaar, Drachten. One day show of 'Vuurplaats'. (afternoon/early evening)
August - December 2016 Amsterdamse Bos (NKvB 4eNatuur In Verbinding) "Vuurboom"
Ancestral Health, Leiden, 'Vuurplaats' , workshop (October 22-10-16)
September 2016: Grensloos Kunst Verkennen (de Wijk) ; 'Toverboom'
August 2015 - November 2015, 3eNatuur, NKvB -Amsterdamse Bos
December 2014 - 'De Portiersloge', Groningen.
15 November - 30 November 2014: Amsterdam, WG de Kunst 'Pakkend Beeld'
October 25 2014; Roden, groupshow (artists with roots in Drenthe)
'De ruimte', kunst in Drenthe van 1800 tot heden. (I took part with 2 new pieces. 'Sporen' and 'Door de mand')
October 5th 2014: Open Studio's (Atelier Route A-kwartier
September 2014, Lelystad '#Loods32' 'Eat your heart out' group-exhibition, with the installation 'Stofwisseling 2' made of fat and caramel on side.
May 2014 'Vleugels Verbeeld', Hortus Haren (until september 2014)
June/July 2014 - 'voorBEELDEN', Nederlandse Kring Beeldhouwers, Haagse Kunstkring, Den Haag / group show of new members 2012-2014
May 24 th 2014: Nacht van Kunst en Wetenschap (presention: 'In de war') Groningen, Academie Minerva.
June 2012, UMCG 'Minerva in UMCG', Healthy Ageing.
Meeden, 'tuingoed' Folz, 'Dwelling',(2012)
June/July 2012 Open Stal (Dwelling)
Spring/summer 2012: Mythe van de Natuur, workshops (educational)
March 2012 CBK Groningen. OKN 10 jaar, OKN leden/oud leden
August/ September: Mythe van de Natuur - Friesche Wouden - Staatsbosbeheer. Landart and Education Projecplanned er 2011
November 2011 Ameland kunstmaand - Buitenkunstroute Koaikersdunen ( 9 international artist) -'Hoogwatertenthuisjes'
June 2011 'The party is over' Hanzehogeschool Groningen (installation)
Winter 2010 - Roden 'Toevallig Textiel' - new installation
November 2009 Vice Versa (fase 2 –Bristol)
Spring 2010 : out door installation 'Beeldentuin Zonnestraal' Hilversum, the Netherlands
Moniek Westerman, statement 2011.
Materie, door de mens aangeroerd, fascineert mij. Hoe verhouden wij ons met de dingen? In de grofstoffelijke wereld zoek ik - tussen de veelheid - naar beelden. Van bouwwerken tot onooglijke dingen, 'spulletjes" en voorwerpen: materie kent een enorme dynamiek, vandaag de dag. Het één is nuttig, het ander totaal zonder bestaansrecht. Alles is altijd onderhevig aan de sterke menselijke drang naar verandering en vernieuwing. Er is een continue 'kringloop' van materie, waarbij alleen uitverkoren (veelal oude) dingen, de dans ontspringen. Maar niet alleen die 'antiquiteiten' vertellen een verhaal. Ik ben gek op 'alles' dat afgedankt is. Een favoriet rijtje: 'zolder, rommelwinkel, e-bay, vrijmarkt en vuilstort'. Verontwaardiging over de zinloosheid van iets, kan raken aan ontroering over hetzelfde ding. Dit 'kijken en beleven' èn het verzamelen is een belangrijk deel van mijn beeldende kunst. Vanuit deze belangstelling voor 'materie' is het maar een kleine, logische stap naar 'materialisme' en hebzucht. Daardoor ontstaat er veelal een maatschappij kritische ondertoon in het werk. "Wat wordt nog gekoesterd?" is mijn vraag. Containerschepen meren dagelijks aan. Vuilcontainers vullen zich net zo frequent met overcomplete spullen. Oude dingen werd de tijd gegund om een plek te veroveren, om 'sporen' te krijgen als markeringen van gebeurtenissen. Maar heeft een 'oude' I-Pod (type 'vorig jaar') dat ook, als het afgeschreven naast de nieuwste versie ligt? Misschien. Als een rode draad in mijn werk loopt de vraag: "Does it matter?" Méér, en eindeloos alles.
September 2009: launch of website / virtual Art Project 'Global Fat Exchange'
February 2008, Pictura, in Groningen
"Het taaie ongerief ", group exhibition
Two new installations
Winter 2007 Vice Versa , DefKa, Assen, group exhibition (try-out)
New installation
Winter 2007 Kunstige Kitsch, Roden, group exhibition
New work, site specific (Pas als het echt is, is het kunst)
Autumn 2007, Hallum, Galerie Albronda, group exhibition
Summer 2006 , group exhibition in old Brick Factory –Delfzijl, the Netherlands
Work made in situ with use of old tools and locally dug clay: 'Zeevruchten'.
May 2006, Project Week in primary school about painting in the style of famous local artist 'the Plough'
December 2005, Exhibition Gallery Noord, Groningen November 2005, Ameland Art , project in "Toren van Nes" - the Netherlands
October 2005, Galerie Frontaal in Appingedam, the Netherlands – duo exhibition with new installation
September 2005, outdoor exhibition "de Leegte", Nieuwolda, the Netherlands
("Ten dode opgeschreven" – computer / photo work)
May 2005: Open studio route Groningen, new installation "(W)eet"
May – Juni 2005 Pictura Groningen: duo exhibition "Haken en Muren", Pictura, Groningen, two new intallations (Grondpatronen)
June 2005: Dom Helder Camaraschool, Groningen. Educational, art / culture
Installation "Potten en pannen" and educational project for primary school.
February 2005: part of the project "Caravan", OOG-TV (local television), Groningen
A film project about a caravan.
Summer 2004: "Open Stal" , Oldeberkoop, the Netherlands. An open air art festival - variety of old and new work.
June 2004, design and presentation for "Suydevelt", Emmen, the Netherlands.
April 2004: Kunstpaviljoen, Nieuw Roden, the Netherlands, group exhibition.
'Springfield' made in situ outside the museum.
May 2004: Open studio route Groningen, new installation.
December 2003: Group exhibition "Hoofdhonger" in "Kunstonderneming Oosterkade" , Groningen, the Netherlands
Installation on local environment "Fall out" .
Augustus 2003, performance "Sugar and spice and all things nice*",
in "Kunst in de Kop" (Groningen). ( as wel as exam work exhibition. )
Juni 2003 , Final show Academie Minerva Groningen.