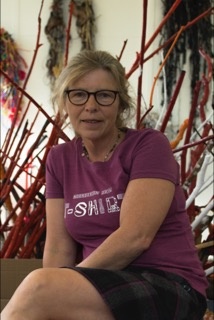 Curriculum Vitae
---
Moniek Dorine Westerman
(Emmen, 1960, the Netherlands).
2003, Academie Minerva in Groningen.
Institution of higher education in Fine Art
Member of 'Nederlandse Kring van Beeldhouwers' /Dutch Society of Sculptors (as from 2012).
---
exhibitions and projects
(In chronological order)
planned:
Kunstschouw Zeeland, Noordwelle (15-24 juni 2018) New sugar installation called 'Adipogense' the birth of a fatcell
ongoing
6 May-June 24, 2018 Jubileumexpositie NKVB Pulchi Studio, the Hague with new work 'Tribes'
Salix, Leeuwarden, from April 1st. : outdoor installation 'Splash'
Kunst aan het Water 2018, centre of Balk, 'Beestachtig' vanaf 14 mei : 'Black Dog'
Leeuwarden, gallerie 'de Kade', 'Kunstenaar laat je kunsten zien' (blokpaneel) from April 5th
2017 - parttaking in multi-media project Spinbarg (Groningen) touring as from august 22 nd. 2017 - in klooster ter Apel (2018) and ending in Veendam.
Pieterburen Zeehondencentrum, presented July 2016 # Delfsail. 'Big Fish' (Ghost Net object for 'Happy Seal' programme)
Meeden, 'tuingoed' Folz, 'Dwelling',(2012)
---
Television: Moniek was a guest in 'Het Vermoeden' , Oktober 15 th, 2017 11.35 EO, NPO2.
Oldeberkoop 'Open Stal', (art in nature, 'Droomboom') summer 2017
WG-Kunst, groupshow 'WG Kunst 25 years', Amsterdam (from May 28th-2017)
'Terug naar het begin', Content of 'Sterke Verhalen-kar', May 20, 2017 Appingedam.
(18-02 until 4-06): 'Verspijkerd en Verzaagd',
my installation 'Vlucht' is included in the exhibition.Het Noordbrabants Museum Den Bosch.
2016: December t/m Januari 2017 "Ijzingwekkend", group show in Kunsthal 45, Den Helder (2 installations: 'Sporen' en 'Treurkleed')
(26 th of Januari 2017/ evening lecture about my workpractice).
December 18th 2016: Open studio Jan Ketelaar, Drachten. One day show of 'Vuurplaats'. (afternoon/early evening)
August - December 2016 Amsterdamse Bos (NKvB 4eNatuur In Verbinding) "Vuurboom"
Ancestral Health, Leiden, 'Vuurplaats' , workshop (October 22-10-16)
September 2016: Grensloos Kunst Verkennen (de Wijk) ; 'Toverboom'
August 2015 - November 2015, 3eNatuur, NKvB -Amsterdamse Bos
December 2014 - 'De Portiersloge', Groningen.
15 November - 30 November 2014: Amsterdam, WG de Kunst 'Pakkend Beeld'
October 25 2014; Roden, groupshow (artists with roots in Drenthe)
'De ruimte', kunst in Drenthe van 1800 tot heden. (I took part with 2 new pieces. 'Sporen' and 'Door de mand')
October 5th 2014: Open Studio's (Atelier Route A-kwartier
September 2014, Lelystad '#Loods32' 'Eat your heart out' group-exhibition, with the installation 'Stofwisseling 2' made of fat and caramel on side.
May 2014 'Vleugels Verbeeld', Hortus Haren (until september 2014)
June/July 2014 - 'voorBEELDEN', Nederlandse Kring Beeldhouwers, Haagse Kunstkring, Den Haag / group show of new members 2012-2014
May 24 th 2014: Nacht van Kunst en Wetenschap (presention: 'In de war') Groningen, Academie Minerva.
June 2012, UMCG 'Minerva in UMCG', Healthy Ageing.
June/July 2012 Open Stal (Dwelling)
Spring/summer 2012: Mythe van de Natuur, workshops (educational)
March 2012 CBK Groningen. OKN 10 jaar, OKN leden/oud leden
August/ September: Mythe van de Natuur - Friesche Wouden - Staatsbosbeheer. Landart and Education Projecplanned er 2011
November 2011 Ameland kunstmaand - Buitenkunstroute Koaikersdunen ( 9 international artist) -'Hoogwatertenthuisjes'
June 2011 'The party is over' Hanzehogeschool Groningen (installation)
Winter 2010 - Roden 'Toevallig Textiel' - new installation
November 2009 Vice Versa (fase 2 –Bristol)
Spring 2010 : out door installation 'Beeldentuin Zonnestraal' Hilversum, the Netherlands
September 2009: launch of website / virtual Art Project 'Global Fat Exchange'
February 2008, Pictura, in Groningen
"Het taaie ongerief ", group exhibition
Two new installations
Winter 2007 Vice Versa , DefKa, Assen, group exhibition (try-out)
New installation
Winter 2007 Kunstige Kitsch, Roden, group exhibition
New work, site specific (Pas als het echt is, is het kunst)
Autumn 2007, Hallum, Galerie Albronda, group exhibition
Summer 2006 , group exhibition in old Brick Factory –Delfzijl, the Netherlands
Work made in situ with use of old tools and locally dug clay: 'Zeevruchten'.
May 2006, Project Week in primary school about painting in the style of famous local artist 'the Plough'
December 2005, Exhibition Gallery Noord, Groningen November 2005, Ameland Art , project in "Toren van Nes" - the Netherlands
October 2005, Galerie Frontaal in Appingedam, the Netherlands – duo exhibition with new installation
September 2005, outdoor exhibition "de Leegte", Nieuwolda, the Netherlands
("Ten dode opgeschreven" – computer / photo work)
May 2005: Open studio route Groningen, new installation "(W)eet"
May – Juni 2005 Pictura Groningen: duo exhibition "Haken en Muren", Pictura, Groningen, two new intallations (Grondpatronen)
June 2005: Dom Helder Camaraschool, Groningen. Educational, art / culture
Installation "Potten en pannen" and educational project for primary school.
February 2005: part of the project "Caravan", OOG-TV (local television), Groningen
A film project about a caravan.
Summer 2004: "Open Stal" , Oldeberkoop, the Netherlands. An open air art festival - variety of old and new work.
June 2004, design and presentation for "Suydevelt", Emmen, the Netherlands.
April 2004: Kunstpaviljoen, Nieuw Roden, the Netherlands, group exhibition.
'Springfield' made in situ outside the museum.
May 2004: Open studio route Groningen, new installation.
December 2003: Group exhibition "Hoofdhonger" in "Kunstonderneming Oosterkade" , Groningen, the Netherlands
Installation on local environment "Fall out" .
Augustus 2003, performance "Sugar and spice and all things nice*",
in "Kunst in de Kop" (Groningen). ( as wel as exam work exhibition. )
Juni 2003 , Final show Academie Minerva Groningen.