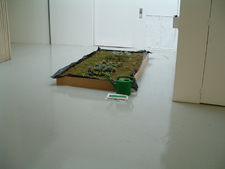 Global (the art of Gardening...)
In this picture (september 2009) artists in Groningen were not quite finished with Aran's piece 'Global', her contribution for Vice Versa in Groningen. It was a garden, consisting of grass and plants send by post from Britain ( Aran lives in Bristol but is Spanish). The background had a lot to do with worldwide rules and regulations. What will happen to them at custums? As it appeared: they passed without problems and arrived safely in the Netherlands. Now - several months later - some of the plants will make the reverse journey in our car. Back from Groningen to Bristol. This afternoon I was out on the balcony to safeguard some from autumn storms and rain. Some turf and a few surviving plants will be challenging French and Britisch customs (ferry crossing) - while others will remain in Groningen to continue growing here as a reminder of GLOBAL.
Plants indeed are very special. I still cultivate - be it with increasing difficulty - a few plants from my grandmother- after she passed away. I've kept them alive now for almost 18 years in her memory.
Reacties
Er zijn nog geen reacties geplaatst